What's it about? You know the one. Young girl escapes from her wicked stepmother and shacks up with seven small, bearded blokes in the woods. The stepmother is not best pleased.
Is it any good? Does the wicked stepmother have a magic mirror? Walt Disney's first feature-length film is one to bring out the inner child in everyone. Even with all the advances in animation, this can still hold its own, particularly in the transformation scene which is just outstanding. And Dopey is funny. Altogether now; Heigh-ho, heigh-ho, it's off to work we go....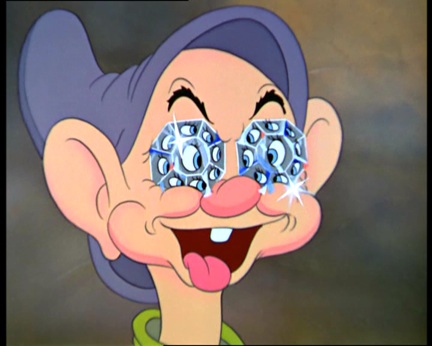 Dopey: funny. I'll fight anyone says different.
I don't trust you. What do others think? Don't be so cynical. It's only a landmark film in cinema history and a regular fixture in various Greatest Films lists such as this, as well as one of the most successful films of all time at the box office. If you don't like it, don't tell anyone - they'll think you're weird.
Anything else I should know? A recent survey showed 6 out of 7 dwarves are not Happy. Not Happy? Geddit? Not Ha.....never mind.
What does the Fonz think? Fully deserving of two thumbs up.
Buy it on Amazon